The new veo+ is designed to meet the needs of today and tomorrow, making the veo+ a smart and future-proof asset for inspections of composite parts, steel & austenitic stainless welds, structures or for corrosion monitoring.
Key design elements considered in the development of the VEO+ are user and performance focused. Based on a superior and innovative digital technology, four available PA configurations (16:64PR, 32:64PR, 16:128PR or 32:128PR) are offered as software options.
Along with Xpair Cloud Remote Access and Export to CSV, the FMC-TFM gives access to FMC recording of the acoustic information, and TFM imaging phased array probe.
Typical applications include Weld Inspection, Crack Detection, Corrosion Mapping, Aerospace and Composite Testing.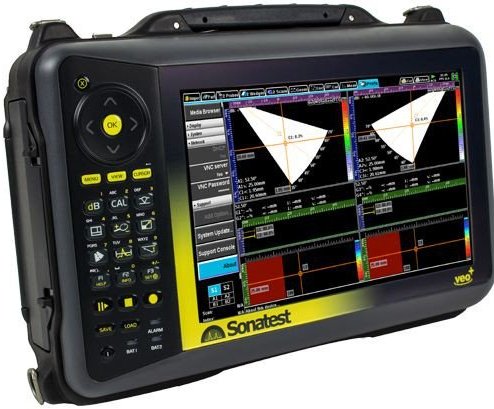 VEO+ Features
· Superior Digital Technology
The Veo+ offers superior data throughput and unsurpassed computational capacity. It delivers fast and accurate results using an impressive 32 channel PA beamformer that provides exceptional SNR, through the use of enhanced digital signal processing.
· Intuitive Menus and Workflow
The intuitive menu system is application and workflow driven, with set up and operation swiftly becoming second nature. Integrated help and Wizards guide the user through scan set up whilst optimization Tips ensure the Veo+ always performs at the highest level. Fast and efficient wizards for sound velocity; wedge delay, TCG, DAC, TOFD setup and Encoder calibration are all provided as standard.
· New FMC-TFM software option
Multiscan acquisitions (FMC-TFM scan and PA scan)
Encoded FMC-TFM on one or two axes
TFM high-resolution and large area imaging
TFM multi-mode analysis
FMC recording for complete traceability
· Advanced Analysis Software
UTstudio+
UTstudio+ makes inspection data management easy.
Loaded with a comprehensive user interface, data analysis and setup file construction becomes natural and straight forward. From customised views to additional gates, measurement tools or refined colour palettes, UTstudio+ helps you generate extended reports and much more.
Suitable for FMC-TFM, phased array and conventional ultrasonic technologies, UTstudio+ is able to accomplish amazing things and get the job done for a multitude of simple advanced applications.
One UTstudio+ licence FREE with you veo+ purchase.
Ideal WheelProbe Partner
Efficient and effective scanning can also be achieved when the Veo+ is partnered with Sonatest's wheelprobes, namely the new WP2